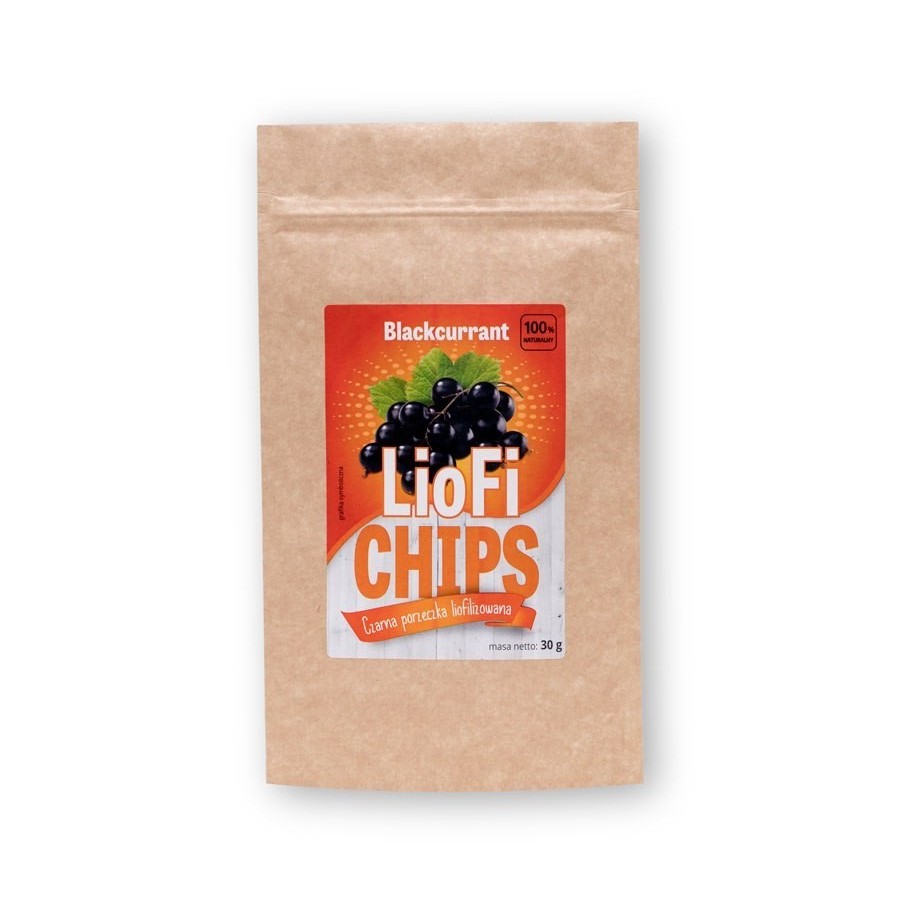  
Liofilizowana porzeczka czarna
Waga produktu: 30g Frakcja: cała Porzeczka Czarna zawiera duże ilość witaminy C, która przyczynia się do utrzymania prawidłowego metabolizmu energetycznego, pomaga w prawidłowym funkcjonowaniu układu nerwowego. Witamina C pomaga w regeneracji zredukowanej formy witaminy E. Potas zawarty w liofilizowanej czarnej porzeczce przyczynia się do prawidłowego funkcjonowania mięśni, a także pomaga w utrzymaniu prawidłowego ciśnienia krwi. Magnez przyczynia się do zmniejszenia uczucia zmęczenia i znużenia. Pomaga w utrzymaniu równowagi  elektrolitowej.  Magnez pomaga w prawidłowym funkcjonowaniu układu nerwowego.
Porzeczka czarna liofilizowana jest suszona specjalną metodą liofilizacji potocznie nazwaną "suszenie mrozem", dzięki której owoce zachowują większość swoich wartości odżywczych, kształt, barwę, a smak i zapach jest bardziej wyraźny. Liofilizowane czarne porzeczki  zawierają 100% owoców czarnej porzeczkii żadnych dodatków.
Świeże czarne porzeczki posiadają szczególne właściwości zdrowotne. 100 g czarnych porzeczek pokrywa bowiem prawie 260% dziennego zapotrzebowania na witaminę C. W tradycyjnej medynie ludowej owoce stosowane są przy infekcjach górnych dróg oddechowych, jak również artretyzmie czy reumatyzmie.
W owocach czarnej porzeczki występuje spora grupa flawonoidów, które hamują powstawanie w organizmie toksycznych związków prowadzących do chorób nowotworowych oraz spowalniają proces starzenia. Ponadto obniżają one poziom cholesterolu we krwi, hamują rozwój miażdżycy naczyń i stabilizują ciśnienie tętnicze.
Czarne porzeczki są również bogatym źródłem witaminy A , która pomaga zahamować proces rozwoju licznych chorób oczu, np. zaćmy.
Czarne porzeczki  suszone metodą liofilizacji zachowują większość właściwości świeżo zebranych owoców, a na tym ich zalety się nie kończą.   
Liofilizowane "suszone mrozem" owoce są chrupiące oraz wyraźniejsze w smaku, dlatego pozwalają cieszyć się smakami lata nawet poza sezonem. Liofilizowane "suszone mrozem" owoce są niesamowicie lekkie, co sprawia że ilość 30-50 g to duża paczka. Stanowią doskonałą alternatywę dla niezbyt zdrowych słodyczy, czy innych wysoko przetworzonych przekąsek. Paczkę liofilizowanych owoców możemy wziąć ze sobą na drugie śniadanie do szkoły, pracy… jest to wspaniała zdrowa przekąska.
Do wyprodukowania 100g porzeczki czarnej liofilizowanej użyliśmy ok. 500g** świeżej czarnej porzeczki.
Można je używać do wszystkich potraw ciepłych i zimnych.
Liofilizowane owoce można wykorzystać na wiele sposobów, które dają duże pole do popisów w kuchni: 
·         jako samodzielne przekąski owocowe
·         w musli śniadaniowych, owsiankach
·         w ryżu na mleku
·         w kompotach, deserach, lodach
·         w ciastach, galaretkach, budyniach
·         w kaszkach i herbatach owocowych,
·         sproszkowanymi owocami możemy też posypywać gofry, placki oraz inne przekąski na słodko. 
<!--[if gte mso 9]><xml> <w:LatentStyles DefLockedState="false" DefUnhideWhenUsed="false" DefSemiHidden="false" DefQFormat="false" DefPriority="99" LatentStyleCount="376"> <w:LsdException Locked="false" Priority="0" QFormat="true" Name="Normal" /> <w:LsdException Locked="false" Priority="9" QFormat="true" Name="heading 1" /> <w:LsdException Locked="false" Priority="9" SemiHidden="true" UnhideWhenUsed="true" QFormat="true" Name="heading 2" /> <w:LsdException Locked="false" Priority="9" SemiHidden="true" UnhideWhenUsed="true" QFormat="true" Name="heading 3" /> <w:LsdException Locked="false" Priority="9" SemiHidden="true" UnhideWhenUsed="true" QFormat="true" Name="heading 4" /> <w:LsdException Locked="false" Priority="9" SemiHidden="true" UnhideWhenUsed="true" QFormat="true" Name="heading 5" /> <w:LsdException Locked="false" Priority="9" SemiHidden="true" UnhideWhenUsed="true" QFormat="true" Name="heading 6" /> <w:LsdException Locked="false" Priority="9" SemiHidden="true" UnhideWhenUsed="true" QFormat="true" Name="heading 7" /> <w:LsdException Locked="false" Priority="9" SemiHidden="true" UnhideWhenUsed="true" QFormat="true" Name="heading 8" /> <w:LsdException Locked="false" Priority="9" SemiHidden="true" UnhideWhenUsed="true" QFormat="true" Name="heading 9" /> <w:LsdException Locked="false" SemiHidden="true" UnhideWhenUsed="true" Name="index 1" /> <w:LsdException Locked="false" SemiHidden="true" UnhideWhenUsed="true" Name="index 2" /> <w:LsdException Locked="false" SemiHidden="true" UnhideWhenUsed="true" Name="index 3" /> <w:LsdException Locked="false" SemiHidden="true" UnhideWhenUsed="true" Name="index 4" /> <w:LsdException Locked="false" SemiHidden="true" UnhideWhenUsed="true" Name="index 5" /> <w:LsdException Locked="false" SemiHidden="true" UnhideWhenUsed="true" Name="index 6" /> <w:LsdException Locked="false" SemiHidden="true" UnhideWhenUsed="true" Name="index 7" /> <w:LsdException Locked="false" SemiHidden="true" UnhideWhenUsed="true" Name="index 8" /> <w:LsdException Locked="false" SemiHidden="true" UnhideWhenUsed="true" Name="index 9" /> <w:LsdException Locked="false" Priority="39" SemiHidden="true" UnhideWhenUsed="true" Name="toc 1" /> <w:LsdException Locked="false" Priority="39" SemiHidden="true" UnhideWhenUsed="true" Name="toc 2" /> <w:LsdException Locked="false" Priority="39" SemiHidden="true" UnhideWhenUsed="true" Name="toc 3" /> <w:LsdException Locked="false" Priority="39" SemiHidden="true" UnhideWhenUsed="true" Name="toc 4" /> <w:LsdException Locked="false" Priority="39" SemiHidden="true" UnhideWhenUsed="true" Name="toc 5" /> <w:LsdException Locked="false" Priority="39" SemiHidden="true" UnhideWhenUsed="true" Name="toc 6" /> <w:LsdException Locked="false" Priority="39" SemiHidden="true" UnhideWhenUsed="true" Name="toc 7" /> <w:LsdException Locked="false" Priority="39" SemiHidden="true" UnhideWhenUsed="true" Name="toc 8" /> <w:LsdException Locked="false" Priority="39" SemiHidden="true" UnhideWhenUsed="true" Name="toc 9" /> <w:LsdException Locked="false" SemiHidden="true" UnhideWhenUsed="true" Name="Normal Indent" /> <w:LsdException Locked="false" SemiHidden="true" UnhideWhenUsed="true" Name="footnote text" /> <w:LsdException Locked="false" SemiHidden="true" UnhideWhenUsed="true" Name="annotation text" /> <w:LsdException Locked="false" SemiHidden="true" UnhideWhenUsed="true" Name="header" /> <w:LsdException Locked="false" SemiHidden="true" UnhideWhenUsed="true" Name="footer" /> <w:LsdException Locked="false" SemiHidden="true" UnhideWhenUsed="true" Name="index heading" /> <w:LsdException Locked="false" Priority="35" SemiHidden="true" UnhideWhenUsed="true" QFormat="true" Name="caption" /> <w:LsdException Locked="false" SemiHidden="true" UnhideWhenUsed="true" Name="table of figures" /> <w:LsdException Locked="false" SemiHidden="true" UnhideWhenUsed="true" Name="envelope address" /> <w:LsdException Locked="false" SemiHidden="true" UnhideWhenUsed="true" Name="envelope return" /> <w:LsdException Locked="false" SemiHidden="true" UnhideWhenUsed="true" Name="footnote reference" /> <w:LsdException Locked="false" SemiHidden="true" UnhideWhenUsed="true" Name="annotation reference" /> <w:LsdException Locked="false" SemiHidden="true" UnhideWhenUsed="true" Name="line number" /> <w:LsdException Locked="false" SemiHidden="true" UnhideWhenUsed="true" Name="page number" /> <w:LsdException Locked="false" SemiHidden="true" UnhideWhenUsed="true" Name="endnote reference" /> <w:LsdException Locked="false" SemiHidden="true" UnhideWhenUsed="true" Name="endnote text" /> <w:LsdException Locked="false" SemiHidden="true" UnhideWhenUsed="true" Name="table of authorities" /> <w:LsdException Locked="false" SemiHidden="true" UnhideWhenUsed="true" Name="macro" /> <w:LsdException Locked="false" SemiHidden="true" UnhideWhenUsed="true" Name="toa heading" /> <w:LsdException Locked="false" SemiHidden="true" UnhideWhenUsed="true" Name="List" /> <w:LsdException Locked="false" SemiHidden="true" UnhideWhenUsed="true" Name="List Bullet" /> <w:LsdException Locked="false" SemiHidden="true" UnhideWhenUsed="true" Name="List Number" /> <w:LsdException Locked="false" SemiHidden="true" UnhideWhenUsed="true" Name="List 2" /> <w:LsdException Locked="false" SemiHidden="true" UnhideWhenUsed="true" Name="List 3" /> <w:LsdException Locked="false" SemiHidden="true" UnhideWhenUsed="true" Name="List 4" /> <w:LsdException Locked="false" SemiHidden="true" UnhideWhenUsed="true" Name="List 5" /> <w:LsdException Locked="false" SemiHidden="true" UnhideWhenUsed="true" Name="List Bullet 2" /> <w:LsdException Locked="false" SemiHidden="true" UnhideWhenUsed="true" Name="List Bullet 3" /> <w:LsdException Locked="false" SemiHidden="true" UnhideWhenUsed="true" Name="List Bullet 4" /> <w:LsdException Locked="false" SemiHidden="true" UnhideWhenUsed="true" Name="List Bullet 5" /> <w:LsdException Locked="false" SemiHidden="true" UnhideWhenUsed="true" Name="List Number 2" /> <w:LsdException Locked="false" SemiHidden="true" UnhideWhenUsed="true" Name="List Number 3" /> <w:LsdException Locked="false" SemiHidden="true" UnhideWhenUsed="true" Name="List Number 4" /> <w:LsdException Locked="false" SemiHidden="true" UnhideWhenUsed="true" Name="List Number 5" /> <w:LsdException Locked="false" Priority="10" QFormat="true" Name="Title" /> <w:LsdException Locked="false" SemiHidden="true" UnhideWhenUsed="true" Name="Closing" /> <w:LsdException Locked="false" SemiHidden="true" UnhideWhenUsed="true" Name="Signature" /> <w:LsdException Locked="false" Priority="1" SemiHidden="true" UnhideWhenUsed="true" Name="Default Paragraph Font" /> <w:LsdException Locked="false" SemiHidden="true" UnhideWhenUsed="true" Name="Body Text" /> <w:LsdException Locked="false" SemiHidden="true" UnhideWhenUsed="true" Name="Body Text Indent" /> <w:LsdException Locked="false" SemiHidden="true" UnhideWhenUsed="true" Name="List Continue" /> <w:LsdException Locked="false" SemiHidden="true" UnhideWhenUsed="true" Name="List Continue 2" /> <w:LsdException Locked="false" SemiHidden="true" UnhideWhenUsed="true" Name="List Continue 3" /> <w:LsdException Locked="false" SemiHidden="true" UnhideWhenUsed="true" Name="List Continue 4" /> <w:LsdException Locked="false" SemiHidden="true" UnhideWhenUsed="true" Name="List Continue 5" /> <w:LsdException Locked="false" SemiHidden="true" UnhideWhenUsed="true" Name="Message Header" /> <w:LsdException Locked="false" Priority="11" QFormat="true" Name="Subtitle" /> <w:LsdException Locked="false" SemiHidden="true" UnhideWhenUsed="true" Name="Salutation" /> <w:LsdException Locked="false" SemiHidden="true" UnhideWhenUsed="true" Name="Date" /> <w:LsdException Locked="false" SemiHidden="true" UnhideWhenUsed="true" Name="Body Text First Indent" /> <w:LsdException Locked="false" SemiHidden="true" UnhideWhenUsed="true" Name="Body Text First Indent 2" /> <w:LsdException Locked="false" SemiHidden="true" UnhideWhenUsed="true" Name="Note Heading" /> <w:LsdException Locked="false" SemiHidden="true" UnhideWhenUsed="true" Name="Body Text 2" /> <w:LsdException Locked="false" SemiHidden="true" UnhideWhenUsed="true" Name="Body Text 3" /> <w:LsdException Locked="false" SemiHidden="true" UnhideWhenUsed="true" Name="Body Text Indent 2" /> <w:LsdException Locked="false" SemiHidden="true" UnhideWhenUsed="true" Name="Body Text Indent 3" /> <w:LsdException Locked="false" SemiHidden="true" UnhideWhenUsed="true" Name="Block Text" /> <w:LsdException Locked="false" SemiHidden="true" UnhideWhenUsed="true" Name="Hyperlink" /> <w:LsdException Locked="false" SemiHidden="true" UnhideWhenUsed="true" Name="FollowedHyperlink" /> <w:LsdException Locked="false" Priority="22" QFormat="true" Name="Strong" /> <w:LsdException Locked="false" Priority="20" QFormat="true" Name="Emphasis" /> <w:LsdException Locked="false" SemiHidden="true" UnhideWhenUsed="true" Name="Document Map" /> <w:LsdException Locked="false" SemiHidden="true" UnhideWhenUsed="true" Name="Plain Text" /> <w:LsdException Locked="false" SemiHidden="true" UnhideWhenUsed="true" Name="E-mail Signature" /> <w:LsdException Locked="false" SemiHidden="true" UnhideWhenUsed="true" Name="HTML Top of Form" /> <w:LsdException Locked="false" SemiHidden="true" UnhideWhenUsed="true" Name="HTML Bottom of Form" /> <w:LsdException Locked="false" SemiHidden="true" UnhideWhenUsed="true" Name="Normal (Web)" /> <w:LsdException Locked="false" SemiHidden="true" UnhideWhenUsed="true" Name="HTML Acronym" /> <w:LsdException Locked="false" SemiHidden="true" UnhideWhenUsed="true" Name="HTML Address" /> <w:LsdException Locked="false" SemiHidden="true" UnhideWhenUsed="true" Name="HTML Cite" /> <w:LsdException Locked="false" SemiHidden="true" UnhideWhenUsed="true" Name="HTML Code" /> <w:LsdException Locked="false" SemiHidden="true" UnhideWhenUsed="true" Name="HTML Definition" /> <w:LsdException Locked="false" SemiHidden="true" UnhideWhenUsed="true" Name="HTML Keyboard" /> <w:LsdException Locked="false" SemiHidden="true" UnhideWhenUsed="true" Name="HTML Preformatted" /> <w:LsdException Locked="false" SemiHidden="true" UnhideWhenUsed="true" Name="HTML Sample" /> <w:LsdException Locked="false" SemiHidden="true" UnhideWhenUsed="true" Name="HTML Typewriter" /> <w:LsdException Locked="false" SemiHidden="true" UnhideWhenUsed="true" Name="HTML Variable" /> <w:LsdException Locked="false" SemiHidden="true" UnhideWhenUsed="true" Name="Normal Table" /> <w:LsdException Locked="false" SemiHidden="true" UnhideWhenUsed="true" Name="annotation subject" /> <w:LsdException Locked="false" SemiHidden="true" UnhideWhenUsed="true" Name="No List" /> <w:LsdException Locked="false" SemiHidden="true" UnhideWhenUsed="true" Name="Outline List 1" /> <w:LsdException Locked="false" SemiHidden="true" UnhideWhenUsed="true" Name="Outline List 2" /> <w:LsdException Locked="false" SemiHidden="true" UnhideWhenUsed="true" Name="Outline List 3" /> <w:LsdException Locked="false" SemiHidden="true" UnhideWhenUsed="true" Name="Table Simple 1" /> <w:LsdException Locked="false" SemiHidden="true" UnhideWhenUsed="true" Name="Table Simple 2" /> <w:LsdException Locked="false" SemiHidden="true" UnhideWhenUsed="true" Name="Table Simple 3" /> <w:LsdException Locked="false" SemiHidden="true" UnhideWhenUsed="true" Name="Table Classic 1" /> <w:LsdException Locked="false" SemiHidden="true" UnhideWhenUsed="true" Name="Table Classic 2" /> <w:LsdException Locked="false" SemiHidden="true" UnhideWhenUsed="true" Name="Table Classic 3" /> <w:LsdException Locked="false" SemiHidden="true" UnhideWhenUsed="true" Name="Table Classic 4" /> <w:LsdException Locked="false" SemiHidden="true" UnhideWhenUsed="true" Name="Table Colorful 1" /> <w:LsdException Locked="false" SemiHidden="true" UnhideWhenUsed="true" Name="Table Colorful 2" /> <w:LsdException Locked="false" SemiHidden="true" UnhideWhenUsed="true" Name="Table Colorful 3" /> <w:LsdException Locked="false" SemiHidden="true" UnhideWhenUsed="true" Name="Table Columns 1" /> <w:LsdException Locked="false" SemiHidden="true" UnhideWhenUsed="true" Name="Table Columns 2" /> <w:LsdException Locked="false" SemiHidden="true" UnhideWhenUsed="true" Name="Table Columns 3" /> <w:LsdException Locked="false" SemiHidden="true" UnhideWhenUsed="true" Name="Table Columns 4" /> <w:LsdException Locked="false" SemiHidden="true" UnhideWhenUsed="true" Name="Table Columns 5" /> <w:LsdException Locked="false" SemiHidden="true" UnhideWhenUsed="true" Name="Table Grid 1" /> <w:LsdException Locked="false" SemiHidden="true" UnhideWhenUsed="true" Name="Table Grid 2" /> <w:LsdException Locked="false" SemiHidden="true" UnhideWhenUsed="true" Name="Table Grid 3" /> <w:LsdException Locked="false" SemiHidden="true" UnhideWhenUsed="true" Name="Table Grid 4" /> <w:LsdException Locked="false" SemiHidden="true" UnhideWhenUsed="true" Name="Table Grid 5" /> <w:LsdException Locked="false" SemiHidden="true" UnhideWhenUsed="true" Name="Table Grid 6" /> <w:LsdException Locked="false" SemiHidden="true" UnhideWhenUsed="true" Name="Table Grid 7" /> <w:LsdException Locked="false" SemiHidden="true" UnhideWhenUsed="true" Name="Table Grid 8" /> <w:LsdException Locked="false" SemiHidden="true" UnhideWhenUsed="true" Name="Table List 1" /> <w:LsdException Locked="false" SemiHidden="true" UnhideWhenUsed="true" Name="Table List 2" /> <w:LsdException Locked="false" SemiHidden="true" UnhideWhenUsed="true" Name="Table List 3" /> <w:LsdException Locked="false" SemiHidden="true" UnhideWhenUsed="true" Name="Table List 4" /> <w:LsdException Locked="false" SemiHidden="true" UnhideWhenUsed="true" Name="Table List 5" /> <w:LsdException Locked="false" SemiHidden="true" UnhideWhenUsed="true" Name="Table List 6" /> <w:LsdException Locked="false" SemiHidden="true" UnhideWhenUsed="true" Name="Table List 7" /> <w:LsdException Locked="false" SemiHidden="true" UnhideWhenUsed="true" Name="Table List 8" /> <w:LsdException Locked="false" SemiHidden="true" UnhideWhenUsed="true" Name="Table 3D effects 1" /> <w:LsdException Locked="false" SemiHidden="true" UnhideWhenUsed="true" Name="Table 3D effects 2" /> <w:Lsd
Klienci którzy zakupili ten produkt kupili również: